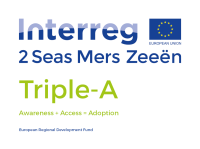 Triple-A not only focusses on raising awareness, but combines this with providing easy access to low-carbon technologies, which is one of the main conditions for adoption.


Triple-A will implement a method in which the supply and marketing of low-carbon technologies will embrace the promotion of the full spectrum of services and products, so individual households' preferences can be met.


To achieve an acceleration in adoption of low-carbon technologies, increasing awareness and enabling access will go hand in hand by simultaneously implementing a user friendly web-based portal for low-carbon technologies, providing feedback on energy consumption by home energy management systems, demonstration projects and pop-up energy savings centres led by suppliers (including local SMEs).


These measures are used to reinforce each other and increase impact. In their creation, we will adopt recent insights from behavioural studies about

distinguishing different groups addressing low-carbon technologies as part of home improvement  and working with costumer journeys.


While the mainstream of initiatives is aimed at the relatively easy part of the housing stock (often publicly owned rental dwellings), Triple-A focuses entirely on single family dwellings in homeownership.


Triple-A is developed in a quadruple helix approach in which 7 Local Authorities across 4 countries will be developing and implementing the same method for engaging with homeowners, supported by state of the art knowledge of technologies and marketing approaches from two Universities and suppliers. Mobilising the supply chain to become much more active in acquisition and cooperation is a key strategy. Thus Triple-A goes beyond the mainstream of campaigning activities.